Kurimaru Arashi
Name
Kurimaru Arashi
Kanji
栗丸嵐
Vital Statistics
Gender
Male
Age
16
Height
Yatamoto:184cm (6'½")
Shohoku:189cm (6'2½")
Weight
77kg (170 lbs)
Birthday
October 22th, Scorpio
Blood type
AB
Professional Statistics
Team
Yatamoto (former), Shohoku
Position
Power Forward
Job
Student
Talent
Jumping and Rebounding
Speed and Agility
Dribbling
First Appearance
Seiyū
Image Gallery
Kurimaru Arashi (栗丸嵐, Arashi Kurimaru) is a first-year student at Shohoku High School, it's basketball teams ace, playing as their starting Power Forward.
Appearance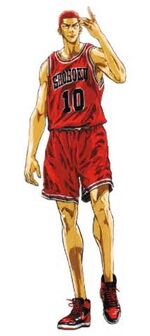 Kurimaru is a tall, lean young man with auburn-coloured hair, black eyes and a slightly dark complexion. He possesses abnormally long limbs for someone of Japanese nationality, having the wing span someone standing at 6'7 would be expected to have.
Personality
Kurimaru is by nature, a very rash and impulsive individual as well as being friendly and outgoing.
History
Skill
Jumping and Rebounding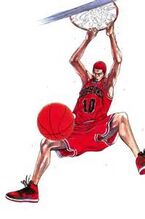 Kurimaru's most prevalent skills are his immense jumping power and ability to rebound. Due to his powerful leaping ability, Kurimaru can perform dunks requiring great size and athletic ability. He is one of the best high school rebounders, being able to combine both his prowess in the air to move around freely, and his explosiveness to reach great heights faster than most players.
Speed and Agility
Despite his size, Kurimaru is still very athletically accomplished, being very fast and nimble. This speed of his allowed him to consistently drive to the basket, past defenders and finish with either a dunk or layup. He is fast enough to outrun an opposing teams power forward whilst dribbling on a fast break. His agility allows him to dribble low to the floor, helping him to pass taller players with relative ease and to serve as an excellent start-up for a dunk. He can successfully weave between defenders whilst dribbling to score on the inside. He is also pretty effective at shooting on the move, being able to pull up to shoot from mid-range.
Ball Handling
Kurimaru is a very skilled handler and whose dribble moves are very fast and difficult for most defenders to keep up with, occasionally enabling him to break the ankles of his chosen defender.
| | | |
| --- | --- | --- |
| In.Scoring | | 100/100 |
| Out.Scoring | | 70/100 |
| In.Defense | | 90/100 |
| Out.Defense | | 80/100 |
| Handling | | 90/100 |
| Rebound | | 100/100 |
| I.Q | | 70/100 |
Relationships
Quotes
Trivia
The kanji 栗 (Kuri) in his name means chestnut, hinting to his red-brown hair.
Kurimaru's favourite food is chicken breast with peri peri sauce.
His shoe size is 29cm.
His favourite shoes to wear are Jordan Super.Fly 4's.