Kaoru Endou


Name
Kaoru Endou
Kanji
円藤薫
Vital Statistics
Gender
Male
Age
N/A
Height
N/A
Weight
N/A
Birthday
N/A
Blood type
N/A
Professional Statistics
Team
San Jinsei High School
Position
Center
Job
Soccer player (Former)
Basketball player
Talent
Zone Reach
First Appearance
Manga
N/A
Anime
N/A
Seiyū
Vomic
N/A
Anime
N/A
Image Gallery
Kaoru Endou (円藤薫, Endou Kaoru) is a former soccer player. Unfortunately, he had no talent for soccer, until a professionnal basketball player told him that he should give basketball a try, because he had talent for it. So he went to a high school where soccer would not deconcetrate him: San Jinsei High School.
Appearance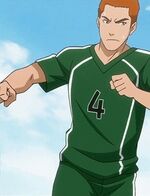 Kaoru is pretty tall for his age and he has really short orange hair. When he played soccer, he wore a green with white strips jersey with the no. 4. While playing basketball, he wears the jersey no. 5.
Personality
He always gives his all in whatever he does.
Background
Here you insert facts about the character's past.
Story
Here you insert facts about your character during the series.
Skills
Here you insert the player's skills, ex: shooting, defensive, power, etc.
Relationships
(insert name of the person with relationship)
State the relationship here.
Trivia
(Here you insert the facts about the player, like how you learned to create it.)