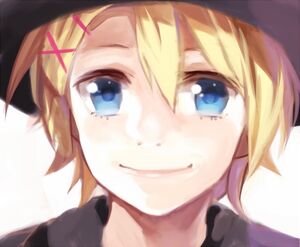 "Ashes fly into those who can't face the fire." -Haruka to Aomine
Haruka Hana
Haruka Hana (花ハルカ Hana Haruka) is the newest member of the Seirin Team. She is well known for being an all-arounder. She can pass, shoot, and dribble at the same time. She is also known as "セイリン高校の春 Seirin kōkō no Haru means Haru of the Seirin Highschool, which all of the schools in Tokyo named her.
Appearance
Haruka works as a supermodel in part time jobs, so, logically, she has a very beautiful face. She is disguised as a male in order to join the basketball club. Due to this, she is liked by both men and women. She has cut her shining gold hair from below shoulder-length to the neck. Haruka has deep blue eyes and soft and smooth pinkish white skin. She is also tall for a very young age. She wears Seirin Team jersey number 06.
During weekends, she prefer wearing casual outfits like simple sweater, pants, and plain shoes. She has a sky blue scarf that tied around her neck. It is revealed to be a gift from her lovely grandmother that passed away several years ago.
Personality
Haruka is very calm and gentle person, yet very logical. She always thinks deeply and whenever there are problems, she easily analyze an answer to that problem and find a way how to defend and reasoned. It is pointed out by Shintarō Midorima that Haruka is very compatible to him and due to that, he respects Haruka more deeply than anyone. In the other hand, Haruka, isn't affected by those, instead, she cares for everyone and treated them equally.
Haruka doesn't like to socialize that much. She will not talk unless it is needed to. She doesn't like to be outgoing because she don't want to be troublesome to others. Haruka didn't mind women giving her gifts all the time, chasing her all the time, men go confront women for getting Haruka, etc. it is also revealed that she has special feelings for Kuroko that she kept from him. It is stated that Haruka likes simple and honest people. She doesn't really likes sweets because of her very sensitive throat. She likes sour foods more than anything like black vinegar.